Introduction
The Danish word "Miljøskærm" does not easily translate to English.  It is a combination of the Danish words for "environment" and "shield" implying the intention of shielding our environment for depositing of non-degradable products as glass fiber in landfills as well as reducing the continuously increasing demand for virgin materials. Further, it refers to the application of recycled glass fiber in sustainable traffic shields / noise barriers.
Disposal of discarded composite products
Over the last 50-60 years, the use of composite materials has greatly increased following development of technology and demand for cost-effective solutions.
With the manufacture of a large volume of composite products follows increasing amounts of discarded material as the products wear down and are replaced. In the absence of alternatives, discarded products are most often deposited in landfills and present a growing environmental challenge.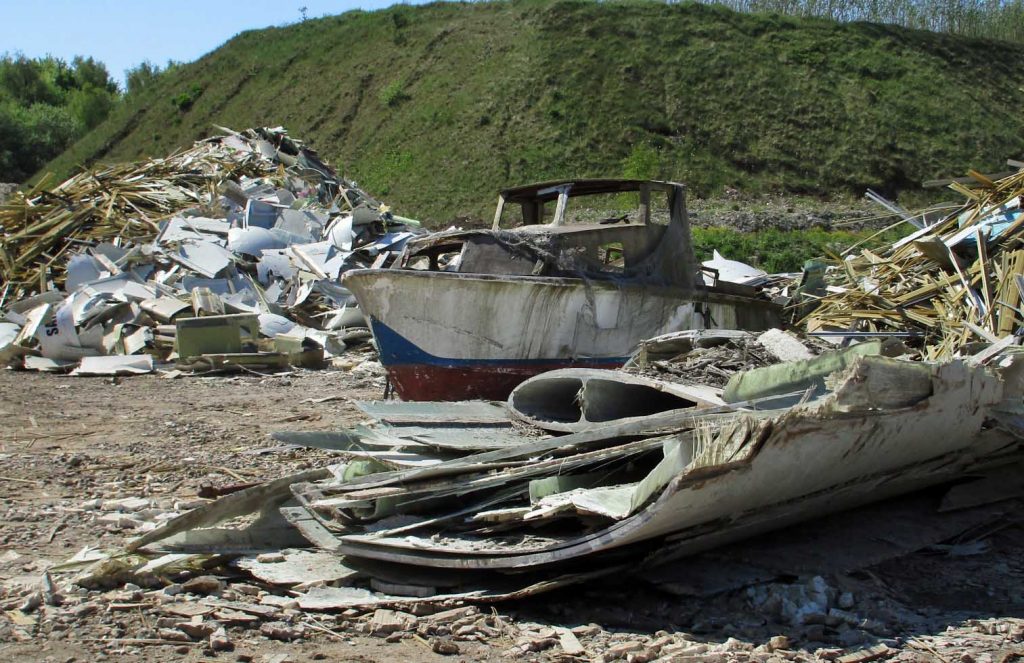 Discarded products of glass fiber en route to a landfill
No commercial recycling of wind turbine blades has yet been implemented as the glass fiber material cannot easily be re-used in its form and state and neither has any viable process for extraction and re-use of its constituents been demonstrated. Hence, today the majority of discarded blades are disposed in landfills.
The scale of the waste problem is substantial and is forecasted to increase considerably in the years to come. An estimated 12,000 tons of glass fiber material is discarded annually in Denmark, most of which originates from wind turbines. On a global scale discarded blades are estimated to exceed 150,000 tons/year in 2027 and 380,000 tons/year in 2040.
Composite materials have excellent mechanical properties for many applications being strong, light, flexible and showing very good resistance to environmental exposure. This excellent resistance to the environment becomes a challenge as the material does not decompose naturally over time and the amount of scrapped material is increasing substantially.
The Innovation
As an alternative to landfills, Miljoskarm® has independently conceived an innovative approach by developing products for acoustic and thermal insulation purposes based on recycled composite material.
By addressing the 2 basic challenges of recycling, Miljoskarm has found solutions by developing:
Reliable fit-for-purpose technology for processing of the composite material
Products and applications for the recycled material with potential for commercial production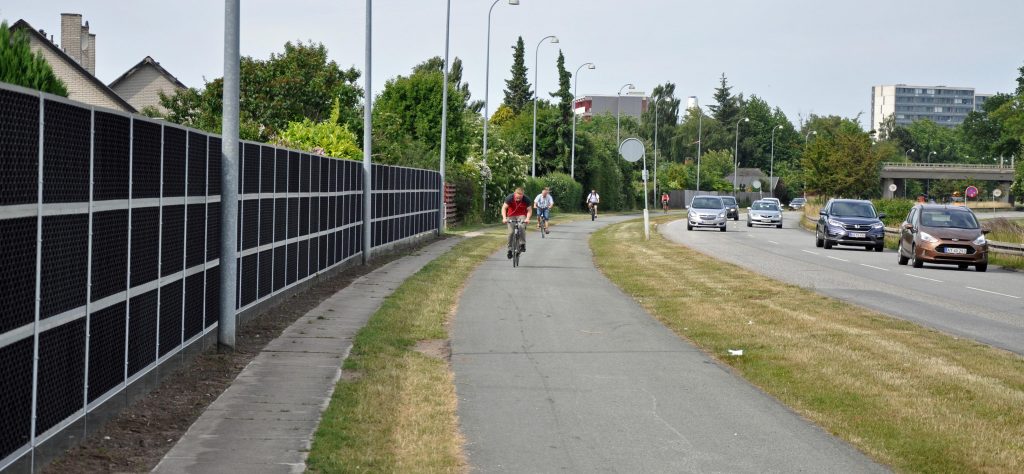 A world first: Noise barrier manufactured from recycled composite and polymer materials installed in Copenhagen suburb Vallensbaek in June 2016
Noise pollution constitutes a major environmental health problem and is considered the second most serious environmental problem in Europe today. This implies that the market for noise abatement is very large, on a European level as well as on a global scale. In Europe, it is estimated that the societal costs of exposure to excessive noise is in the level of 40 billion Euro annually including the consequential costs relating to sleep deprivation, stress and anxiety, chronic diseases as diabetes and cancer and premature death. Road traffic is the dominant source of environmental noise in Europe with an estimated 125 million people being exposed to noise levels above the critical 58 decibels.
Accredited tests document that noise barriers with an acoustic absorbent core of recycled glassfiber material have acoustic properties fully comparable to that of mineral wool.
Taking advantage of the non-degradable property, the recycled glass fiber material is very well suited for outdoor applications being virtually un-affected by exposure to the environment. As a valuable benefit this eliminates the requirement for regular maintenance of noise barriers installed at roadside.
Recycling the material will contribute to reduce the future requirement for landfills, and by substituting new and more expensive materials typically used in existing products also reduce the demand for virgin materials.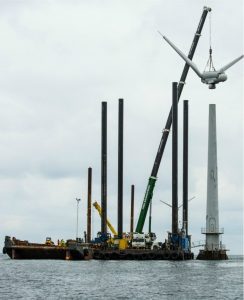 The Danish national energy company, Ørsted A/S, has acknowledged the sustainable approach by entering an agreement with Miljoskarm® for recycling of the blades from Ørsted's first offshore wind farm, Vindeby, installed in 1991 and decommissioned in the spring of 2017 (photo: Ørsted).
Process Technology
Composite materials are not easily shredded as the compact material may induce high levels of stress in most types of shredders, and the reinforcing glass fibers exert serious wear on machinery parts.
Wind turbine blades and other composite products are characterized by consisting of dissimilar materials. The material is very difficult to separate into its basic constituents by commonly available chemical or mechanical processes, and most of the constituents do not have any practical or commercial value if recovered.
Working closely with recycling companies and equipment manufacturers, Miljoskarm® has acquired a comprehensive knowledge of suitable technology and configuration of process lines for processing of composite materials.
Following an initial process removing undesired materials and parts, an automated and enclosed shredding & separation process enables an environmentally friendly production and provides a proper working environment for the operators.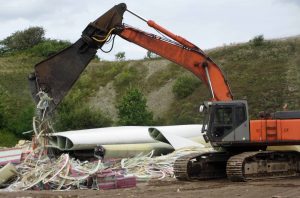 On-site processing substantially reduces the time-consuming and costly handling and transportation of large products
Products and Applications
The recycled material is formed and fixed in a porous structure. The material can be formed in linear as well as non-linear shapes and geometries.
Acoustic applications
A noise barrier element basically consists of an outer frame of weather resistant material containing a core of acoustic absorbent recycled composite material.
The frame consists of weather resistant material for example metal, polymer or composite material, subject to specific requirements for the application. The acoustic absorbent side facing the source of the noise allows air passage to the core material.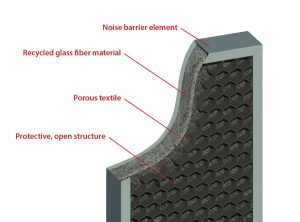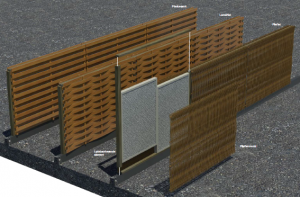 Examples of combining absorbent elements with common fence elements.
Acoustic properties
Noise barriers are characterized by two basic acoustic properties; acoustic absorption and acoustic isolation:
Acoustic absorption is a measure for the percentage of the soundwaves that are not reflected by the surface; i.e. the fraction that is absorbed in the material. The property is closely related to the porosity of the material and the character of its surface. The non-absorbed fraction is reflected from the surface.
Acoustic isolation (damping) is a measure for the damping that occurs when the soundwaves pass the material. The property is closely related to the density of the material and increasing density improves the isolation.
For a noise barrier, the acoustic isolation (damping) is the property experienced as a reduced noise level behind the barrier compared to the noise source on the opposite side of the barrier. The acoustic absorption is experienced by the absent reflection of the traffic noise on the road side when vehicles pass the barrier.
Requirements to the acoustic performance of noise barriers are specified in several national and international standards, and the properties of Miljoskarm®'s products are documented by acoustic tests carried out on by the accredited Danish institute for acoustics, Delta.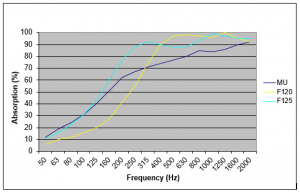 Measured acoustic absorption vs frequency of structures of recycled fiber material (Delta)

The test results document that the acoustic quality of Miljoskarm®'s products is fully comparable to existing noise barrier products and commonly used products of mineral wool.
Thermal applications
The porous fiber material shows good thermal insulating properties and may be utilised as building insulation.
Environmental Impact
An environmental screening documents that the manufacturing process of noise barriers from recycled composite and polymer materials will reduce both the CO2 emission and the energy consumption substantially compared to existing products manufactured in aluminum and mineral wool.
The recognized Danish engineering consultant COWI compared the manufacturing process of 100 m2 noise barriers in aluminum and mineral wool to 100 m2 noise barriers in recycled composite and polymer materials. COWI concluded that a 60% reduction of CO2 emission and a 40% reduction of the energy consumption is achieved for the products manufacturing in recycled materials.
CO2 emission (approx. 60 % reduction). Energy consumption (approx. 40 % reduction)
Left columns: Product of recycled material; Right columns: Product of aluminum and mineral wool.
Environmental Effects
Glass fiber products are based on either polyester or epoxy and the manufacturing process must be carried out in a controlled environment. After curing neither polyester nor epoxy present any environmental hazards. The acoustic absorbing material of the fibre material contains no toxic constituents and does not present any risk of emission or seeping of any undesired substances to the environment.
Circular Economy
The virtually non-degradable property of the recycled glass fiber makes it virtually inert to climatic conditions and mechanical wear and tear.
This allows the material to be returned to the manufacturer at a later point in time and re-used in the manufacture of new noise reducing products. Establishing of a closed, controlled loop of recycled materials will make a positive contribution to the demand for circular economy of our future society.
Sustainable Development Goals addressed
Perspectives
Development work on applications of recycled composite materials is ongoing and is anticipated to result in more innovative products and applications.
IP Rights
Miljoskarm® holds several Danish and international patents covering products for traffic shields / noise barriers and thermal insulation and design aspects of these. Further patents are pending.
Contact
Miljøskærm is founded and fully owned by the Danish engineer Jakob W Nielsen.
Miljoskarm® ApS
Argentinavej 2
2800 Kgs. Lyngby
Denmark
CVR: 37305669
Mail: post@miljoskarm.dk
Phone: +45 2422 3772